The Bullet Point: Singer-Song Writer Axel Jansson
---
The Bullet Point is back! This time we talk to a very familiar face to those of you who have been following our journey. His name is Axel Jansson and is, first and foremost, a London based singer-songwriter. He is also a vintage watch dealer, a menswear enthusiast, our frequent model and the brother of our founder.
---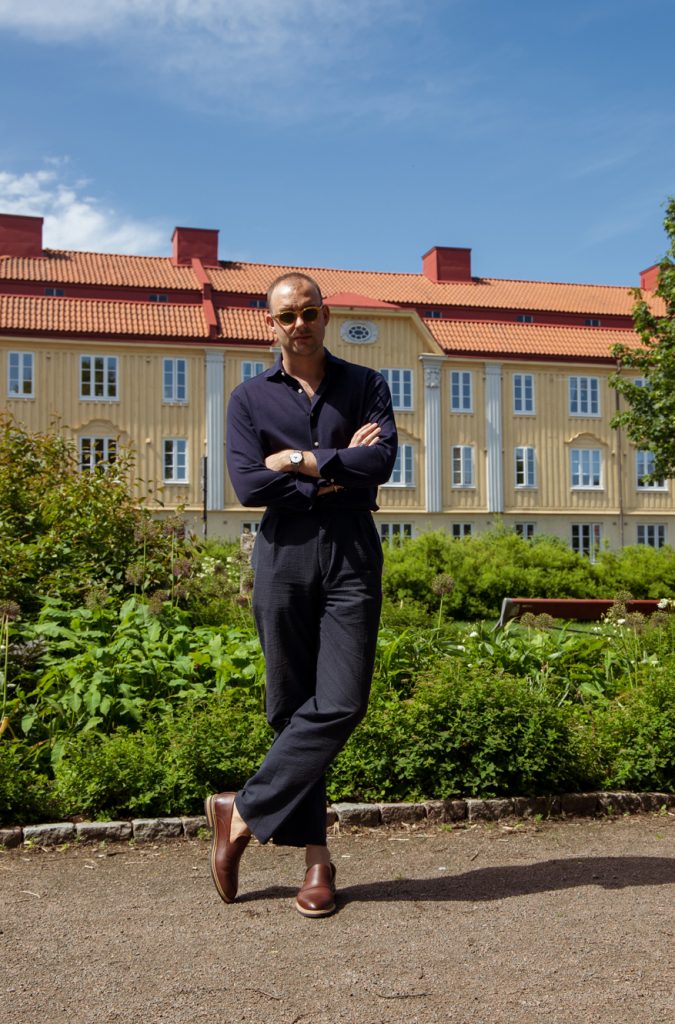 ---
We caught Axel at a really busy time. He recently released a new single 'Wanna know you', a second single leading up to his debut album 'Weight of the world'. An album that is expected to be released in September. Currently, he is out touring the U.K. this summer, going between festivals to gig venues and radio interviews. Hence, we will start our conversation on the topic – Music.
---
Where does the love for music come from?
I grew up around good music. My father is a big music lover and had an extensive record collection. That's where I picked it up.
Have you always known that you wanted to be a musician?
From my mid-teens, I knew I wanted to be a musician. It was around that time I got into songwriting and it felt very natural to me. It's always a gamble to get into a business like the music industry, but it's my passion. I'm a big believer in that you should follow your passion in life.
Where do you get your inspiration to your songs from? Who are your idols?
I still get inspired by the 70's rock music. I look up to guys like Bruce Springsteen, Neil Young, Bob Dylan, Tom Petty and etc. There's a lot of artists who get it right today as well like, Jason Isbell, John Mayer, Ryan Adams, Dawes and etc. I like the raw element of that time period and the honesty in the music and I try my best to add that flavour to what I do as well. I also get inspired by other genres like Blues music. That's like meditation for me. Other than that I pick inspiration from life experiences or things that are happening around me.
Regarding your style on stage, how has your style evolved? Who inspired you?
Well, the hat has sort of becoming a signature thing for the stage performances. I've got a few now and order them from a great hat maker in Venice, California called Nick Fouquet. I also wear a lot of suits, both on and off stage. I quite like the mix of dressing down a well-tailored suit for when I'm performing. People have really stopped dressing up overall. Everyone is so hooked on streetwear and It's really a shame. There's nothing more tasteful than a nice suit. When people dress down, I dress up. How's that?
Is there a stage that you'd like to play at one day?
I had the privilege to play Glastonbury once which was an amazing experience and also a tick off the bucket list. But it would be nice to come back and play one of the big stages at some point. It would be really cool to fly over to America and play Austin city limits as well. One day I would love to play at the Roundhouse in Camden, London as well.
---
---
Apart from being a singer-songwriter, you also collect and work with vintage watches. How did that start? What attracted you to watches?
---
I've always been a watch lover, but really got hooked about 7 years ago. I picked my first vintage watch from a flee market in East London and got bitten by the watch bug. Now to this day I sleep, eat and breathe watches. I. Sound like a crazy person, but it's a nice passion and a lovely community of people. I love the history behind these pieces and it really is an art form.
If you're new to watches, but you'd like to start collecting, where should you start? Is there anything you should know first?
I would start by doing as much research as possible. Study auction catalogues, go to watch fairs, meetups and find a few trustworthy web sites. Also, find a seller you can trust.
What should you invest in first / what's a good first buy?
A vintage Rolex Datejust in steel or an Omega Speedmaster 'Moon watch'
Do you have a dream watch?
I have many! A Rolex Ref 6062 in Steel is a stunning watch. A 'double red' Patent pending Rolex Sea Dweller with a brown dial is difficult to beat as well. Or nice Patek Philippe Calatrava ref 565 in steel with Breguet numerals.
If you are interested in what Axel's watch trading, have a look at his Instagram account @thewatchguysuk
---
---
Now, let's talk style. You previously mentioned that the hat is your signum on stage and that you love suits. You have a very personal style, where do you get your inspiration from? How did your interest start?
---
I've always been interested in style and care about what I wear. Looking back at old photos I can't say that I stand behind every phase I've been through haha, but it's all a part of the journey. I'm a big fan of good tailoring. I care for quality, fit and details and I don't like to follow fashion. I rather go for classic and elegant products. Then it's up to you, you dress it up or down. A nice pair of loafers, A well-tailored suit can take you a long way.
Is there an era in men's fashion that you prefer?
I think there's some great stuff from the '40s. Love the way the suits were cut. Even all the way into the '60s you see great tailoring with some really nice details.
Do you have a style icon?
Gianni Agnelli. I also think there's a lot of good inspiration on Instagram these days if you know where to look.
Where do you go shopping in London? Which are your favourite boutiques in London?
I have my suits made at Timothy Everest, even the ready to wear is great. Speaking of style icons you have @toneloki working there. I also love everything Drake's London does, they're just spot on. It's always fun to stop by Anderson and Sheppard as well. There are also some great vintage shops around Brick Lane.
How about sustainability, is that something that you think about when you shop for clothing? What is style and sustainability to you?
Of course. I always go for good quality. Buy less and buy the best. Look after your stuff. With that mentality, your goods will last forever and also look better with time. I know so many people that buy cheap stuff that they wear for a season and then on to the next. That's not how you do it.
What is in your shoe wardrobe? Is there a pair / a type of shoe that you can't be without?
Loafers! I try to keep the classics as well. I wear a black cap toe Oxford quite regularly. I've got a great pair of Alden Burgundy Cordovan Tassels, A pair of black Belgian shoes and I'm completely in love with the Stig Percy 3's. Especially the Full Grain Version!
---
Our Limited Edition Stig 3 in full-grain, vegetable tanned leather from Tempesti in Italy.
---
Axel's quick guide to London
---
Favourite shops?
Timothy Everest, Drakes, (and if you take a trip up to Scotland go to Dicks Edinburgh)
Favourite music venue?
Where to eat & drink?
Brat in Shoreditch, Trullo in Highbury & Islington, Campania and Jones by Columbia Road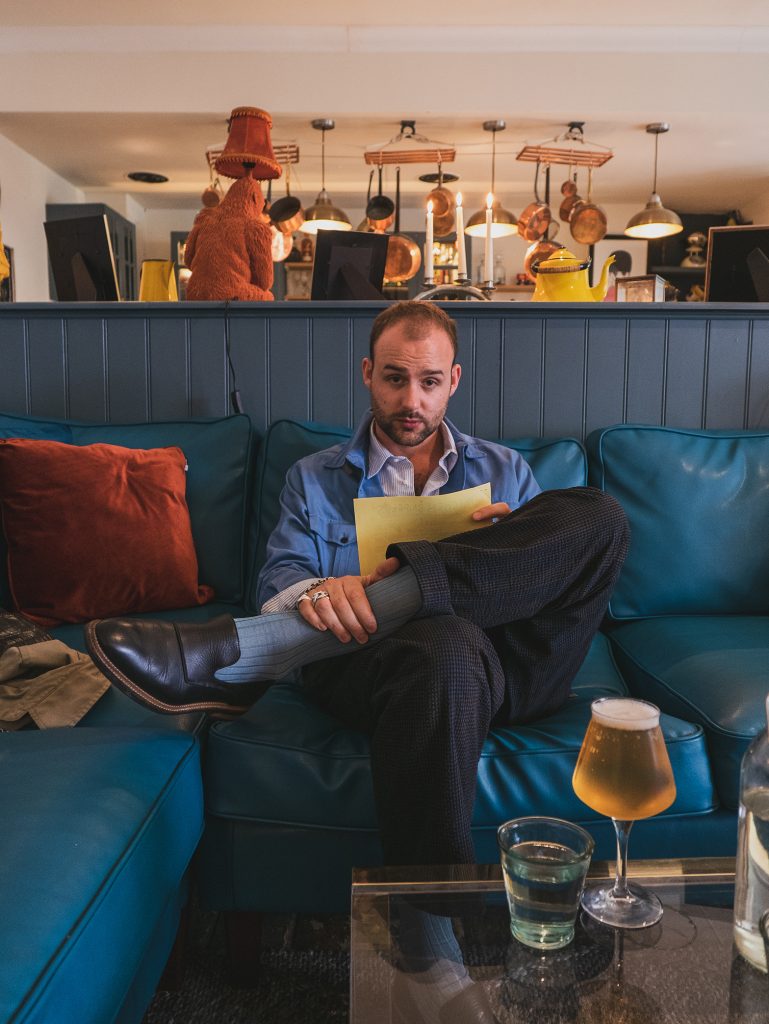 03/7/2019
Back